Train Operation Plan Optimized by Implementing "One Day One Diagram"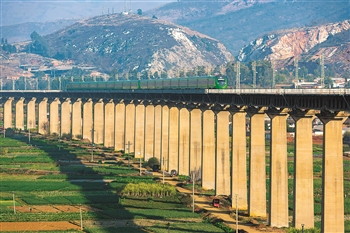 After the implementation of the new train working diagram over the national railways, CR Kunming carried out "One Day One Diagram" program based on routine Covid-19 control and changes of the railway network in Yunnan Province. CR Kunming adjusted the operation plan of trains running at weekends and in peak hours from and to popular areas and routes of some trains under its administration. At the same time, it added China-Laos Railway trains
and
New International Land-Sea Trade Corridor trains and through freight trains. The picture shows a
Fuxing EMU train running on Kunming-Yuxi-Hekou Railway on April 13.
Photo by Xu Zhangwei

附件: