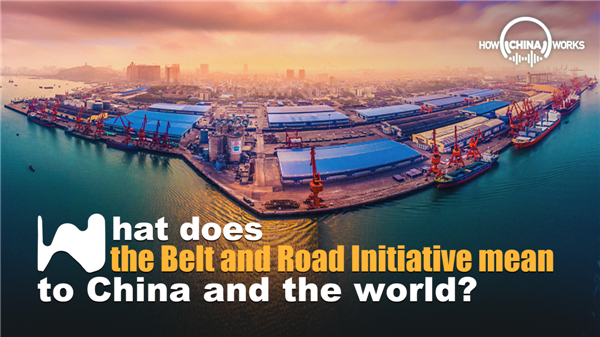 In Madagascar, Justin from an orphanage in the capital Antananarivo was thrilled and mesmerized by the brand new TV set that arrived thanks to a donation from "Chinese uncles."
  "We can watch TV with this antenna. I heard that there are many programs from all over the world," he said.
  Sophia, a Tanzanian girl, was just as thrilled when she received the first TV set at her home on Zanzibar Island.
  The project is called "Connecting 10,000 Villages," one of many that are improving people's quality of life under the Belt and Road Initiative (BRI).
  Connectivity strengthened
  The BRI was proposed by Chinese President Xi Jinping in 2013 to improve regional connectivity and economic integration, while also benefiting people's livelihoods and welfare.
  Eight years on, Xi's vision has become a reality in terms of policy coordination, infrastructure upgrade, unimpeded trade flow, financial integration and closer people-to-people ties.
  The "Connecting 10,000 Villages" project, for instance, launched during the Forum on China-Africa Cooperation held in Johannesburg, South Africa in 2015, has helped provide digital TV services for nearly 13 million users, and internet television services to 20 million users in 37 African countries.
  At the fifth anniversary of the BRI, Xi said that in advancing the initiative, "we should transition from making high-level plans to intensive and meticulous implementation, so as to realize high-quality development, bring benefits to local people, and build a global community of shared future."
  According to a World Bank study that analyzed the impact of the BRI on trade in 71 potentially participating countries, the initiative increased trade flows among participating countries by up to 4.1 percent.
  The study also found that the transportation network proposed by the BRI could lead to a 4.97-percent increase in total foreign direct investment (FDI) flows to BRI countries, a 4.36-percent increase in FDI flows within BRI countries, a 4.63-percent increase in FDI flows from OECD countries, and a 5.75-percent increase in FDI flows from non-BRI countries.
  In the meantime, Xi's concept of "building a community with a shared future for mankind" has injected a cultural dimension into the project. Communication between BRI countries has been profoundly enhanced as BRI-themed art festivals, exhibitions, trade fairs and theater unions are being built along the BRI trail.
  In 2017, Hakim & Kong Xiaoxi, the first animation co-produced by China and Saudi Arabia, hit screens, signifying the start of an even closer friendship between the two countries. The 26-episode show also allowed millions of Saudi TV watchers to learn about Chinese cuisines, clothing and kung fu.
  More than trade
  The China-Europe Railway Express, a freight rail network connecting China and Europe along the New Silk Road, plays a significant role in building bridges between BRI-participating countries.
  The railway's unique strengths have been shown during the COVID-19 pandemic – allowing a large amount of cargo to be transported at a time when daily necessities and medical aid are badly needed.
  In 2020, a total of 12,406 trains ran routes under the project, registering a 50-percent year-on-year increase, and 7.3 times the number for 2016. Over 1.1 million standard cases of product were transported, and among them there were 9.3 million pieces of COVID-19 essentials, weighing 76,000 tonnes.
  Helping countries along the route to deal with national emergencies is not the only good thing the BRI does. The project has always had wider implications.
  In 2020, China's non-financial direct investment in countries along the routes stood at $17.79 billion, an increase of 18.3 percent year on year.
  To date, a total of 126 countries, including developed and developing nations, and 29 international organizations have signed cooperation documents with China on the initiative.
  A 2019 World Bank study also predicts that the BRI will help lift 7.6 million people out of extreme poverty and 32 million people out of moderate poverty globally.
  "The BRI may be China's idea, but its opportunities and outcomes are going to benefit the world. China has no geopolitical motives, seeks no exclusionary blocs, and imposes no business deals on others," Xi said at the opening ceremony of the Belt and Road Forum for International Cooperation in Beijing in 2017.
  "China will continue to act in the principle of extensive consultation, joint contribution and shared benefits, and pursue open, green and clean cooperation under the BRI."